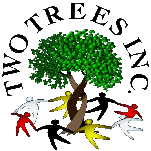 ---

---

---

---

---

---

---

---

---

---

---

---

---

---

---

---

---



a non-profit, charitable organization dedicated to
community empowerment and cultural bridging



---
Two Trees is honored to be connected with the
Circle of VisionKeepers organization
with its commitment to help and empower others.
Over 10 years ago, Ms. Khadijah Ali, the organization's owner and director, and her mentor, teacher and friend, the late Dr. Robin "Doc" Herman made a commitment to seek ways to provide supportive services for ex-offenders. This program provides clothing, bus tokens (when available), emergency toiletries and bi-monthly recovery and re-entry support groups, using the Psychology of Incarceration Re-Entry Model. Khadijah is an important and vital supporter of her community and its activities. She is also a student studying to be a drug/addictions counselor and has worked as Project Co-ordinator for the Personal Planning Project (PPP) at the Montgomery County Adult Probation Department in 2009. She also holds a Chemical Addiction Assistance license from the state of Ohio.

Khadijah also serves as Executive Secretary on the "Board of Director's for Advocates for Basic Legal Equality and Legal Aid of Western Ohio, Inc. ABLE/LAWO are non-profit regional law firms that provides high quality legal assistance in civil matters to help eligible low income individuals and groups in western Ohio achieve self reliance, and equal justice and economic opportunity. The mission and goals are similar to Ms. Ali's purpose to (empower the individual) in the Dayton, Ohio area.
| | |
| --- | --- |
| | The Visionkeepers Clothing Shop, located at 3401 Wood-man Dr. Suite 12, Kettering, Ohio 45429, is also a community service worksite for the Goodwill Re-Entry program, Montgomery County Courts (Adult Probation) and the Adult Parole Department. Resocialization, reintegration, recovery and re-entry are "processes of continuation." The participants gain more than a work experience at this site. They have opportunities to be empowered, thus enhancing their family unit and promoting community well being. The Circle of VisionKeepers/Circle of Courage provide services and clothing to persons of all faiths including the Islamic faith. |
| | |
| --- | --- |
| Annual events include the Circle of Vision Keepers Clothing Shop day on May 21st of every year; Sun Watch Indian Village dinner for the annual pow wow event in the name of Dr. Robin "Doc" Herman; Re-Entry Support groups using "The Psychology of Incarceration and the Hanbleycea" written by the late Dr. Robin Herman, co-authored by Khalil Osiris and Anthony Villa Sr. It is the hope of the Circle of VisionKeepers that individuals will be empowered, and that its activities promote community well being. | |
Donations of money, clothing and other items are always welcome. Tax Deductable cash donations can be made through Two Trees. You may also contact the Circle of VisionKeepers directly at 937-212-3807. You may also visit their web site at www.circleofvisionkeepers.org.