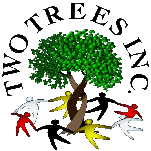 ---

---

---

---

---

---

---

---

---

---

---

---

---

---

---

---

---



a non-profit, charitable organization dedicated to
community empowerment and cultural bridging



Two Trees Inc. is part of a large tiospaye (Lakota word for "Extended Family") of individuals and organizations that share similar work, philosophies, and goals related to community empowerment, healing, and cultural bridging. We encourage you to contact other members of our "family."

www.circleofvisionkeepers.org The Circle of VisionKeepers/Circle of Courage organization works to help and empower others. This program provides clothing, bus tokens (when available), emergency toiletries and bi-monthly recovery and re-entry support groups for ex-offenders using the Psychology of Incarceration Re-Entry Model.

www.whitebison.org White Bison is a facilitator of the Wellbriety Movement that teaches us that we must find sobriety from addictions to alcohol and other drugs and recover from their harmful effects. The White Bison Organization started the Lakota Rose Sobriety Bracelet Project.

www.kidsforsavingearth.org Kids for Saving Earth (KSE) is a non-profit organization dedicated to helping Kids help the Earth. Founded by 11-year-old Clinton Hill before he died from cancer, his parents carried on his dream of a healthy planet through KSE's mission to educate and empower children to protect the Earth's environment.

http://www.chuckjonescenter.org The Chuck Jones Center for Creativity is dedicated to fostering and encouraging creativity, especially in young people, using the drawings, films, and writings of legendary animation director, Chuck Jones, as inspiration.

ga-li.tmvcna.org Alicia Pagan and Raymond Two Crows Wallen are storytellers, artists and musicians. They are also cultural consultants of Two Trees, Inc. and help coordinate events sponsored by the organization.

www.tmvcna.org The Miami Valley Council for Native Americans was founded to preserve and promote American Indian culture, its heritage, and its religion through exhibits, cultural dances, ceremonies, spiritual dances and education.

http://www.naturalspacesdomes.com Natural Spaces Domes are easy to build, personally designed, healthy, resource efficient, fantastically energy conserving and are intelligent alternatives to expensive and inefficient housing. Lakota Rose Madison® Peace Places will be housed in Natural Spaces Domes.

www.glassgrowersgallery.com Glass Growers Gallery was founded in 1974 and blends the functional with the decorative in its offerings of jewelry, pottery, blown glass, metal and wood works. Glass Growers has helped Two Trees, Inc. with its activities.

www.pacificdomes.com Pacific Domes is a Global Manufacturer and Distributer of Geodesic Domes- Event Domes, Eco-Living Domes, BioDomes, Healing, Relief and Playground Domes.